Kurt's officially unofficial
Kim Clijsters
fan page
The innovator, not an imitator. Bringing you all the Kim Clijsters you want since September 5,1999.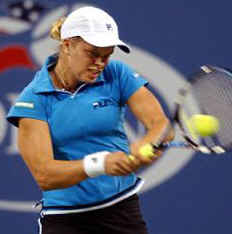 Here are all Kim's tournament results I could find as of right now.
2001 WTA (complete)
2001 WTA Doubles (complete)
2000 WTA (complete)
2000 WTA Doubles (complete)
1999 WTA (complete)
1999 WTA Doubles (complete)
Federation Cup (complete)
1998-1999 ITF
1998-1999 Junior
Kim's Interviews
September 4 1999
Leo, September 28 1999
S Appelmans, Jan 17 2000
I am currently reassessing the content of this site. Regular WTA tour singles results will probably be removed, as they are easily found on the ITF site. Pictures will go back up after the US Open, as we don't currently have the bandwidth to deal with them.
---
THE LATEST

As it stands in April 2005, Kim has made a recent return and gotten a big title at the Nasdaq100 Open. This page is rarely updated now as Kim has had many other websites built in her honor since this, the original. Please feel free to peruse the (old) results and pictures.

For more great tennis info go to tennisserver.com

Also, here is a nice Asa Svensson site. Asa is hot.

Here is a link to a Justine Henin site. It has about a billion pictures.

If you have any comment on the content of this page, contact Kurt.